Ok, so I just got back from Florida.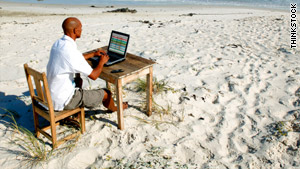 I was there for 15 days!! And before you bemoan what a complete b*tch I am for complaining about being in Florida during the snowiest spate of weather MA has ever seen, understand that it wasn't the most convenient or comfortable for me. Get this-three canceled flights! Yes, I swear three of my scheduled flights home were cancelled due to snow. I was lucky enough to have a place to stay, and I got a bonus vacation to boot, but I own my own business and I was very anxious to get back.
So here I am and don't you just love the first day back? Not really.
Piles of mail at home and at work. Nothing is more anxiety inducing that a big, tall pile of unopened mail. It makes me feel like the little girl who slept through the final exam!
So many invoices for product! And all that accounting?? I need to make lists of priority and take it slow-otherwise I will have a full on anxiety attack.
Piles of laundry! Not really. I was fortunate enough to take home 100% clean laundry. Thank God for small miracles. Nonetheless I have piles of clothes to put away.
Ice dams-if you don't like in New England you probably have no idea what I'm talking about. Ice dams are when snow fall after snow fall after snow fall collects on the roof of your home. Ice forms on the roof which when you mix that with the heat from the inside of your home, it causes the most incredible water damage that is sneaky and crazy.
But rest assured, there is some comfort in the fact that I am back.
On the contrary, there's the satisfaction of crossing all those crazy things off the list and feeling like you are accomplishing something. Seeing my dog's face after 15 days made my heart sing! There is the warmth of the fire and relaxing under my favorite blanket with my dog at my feet and of course, my own bed! I missed my own bed.
Going away for a "surprise" vacation was great, but if you had told me before I left that I would be gone for two weeks I would have said your were outta your FREAKIN mind! I would have said no way-nada-not happening. Yet it did happen, and if I tried to duplicate it again next year it would never be as spontaneous. So this one will go down in the history books as reluctant, yet special nonetheless.