Last night's Golden Globes marks the beginning of Hollywood's 2014 Red Carpet Season which stretches all the way thru to the big finale at the Academy Awards in March. There were many high's and a few lows, so here's how I saw it!
Breathtaking, stunning and absolute red carpet fashion perfection is how I saw Lupita Nyong'os red Ralph Lauren creation. She took my breath away and I LOVE it when a fashion does that. This girl has the body of a fashion model and I cannot wait to see what her next red carpet number will be. Stunning....
Poor Lena. She looks like a young girl crammed into a grown woman's fashion that she really feels uncomfortable in. This Zac Posen might have been better served on another star, but on the upside, she looks the part of a Golden Globe nominee. Points for that, but where she misses is the fit and the color. This color is stunning-just not on her- and that's ok. They just should have told her. And while I prefer a tight fitting gown on Lena over a large silhouette, she is jammed in here so tight I'm not sure Lena thinks she will make it through the whole night securely. And it shows...
America's sweetheart took a trendy turn in a Prabal Gurung color blocking gown. The gown is lovely on her. Well fitting and fresh, but not very memorable. The thing about Sandra last night that puts her on my best dressed list was her face.. Her makeup and hair was flawless which sets the tone here. She looked so beautiful and soft, she actually belies her advanced age in Hollywood standards.
The youth of Hollywood speaks! And I love what they have to say. Fresh and different, yet stunning and sexy is how I would describe Emma Watson's Dior creation. From the front, it covers fully but sports a gorgeous slit, and from the back it really packs a punch. The House of Dior really know their stuff and I spot a new fashion trend coming!
Reece can do no red carpet wrong and last night was no exception! This aqua Calvin Klein design was like liquid paint on her, and her hair and makeup were right in line with the minimalistic beauty of her gown. Kudos to her.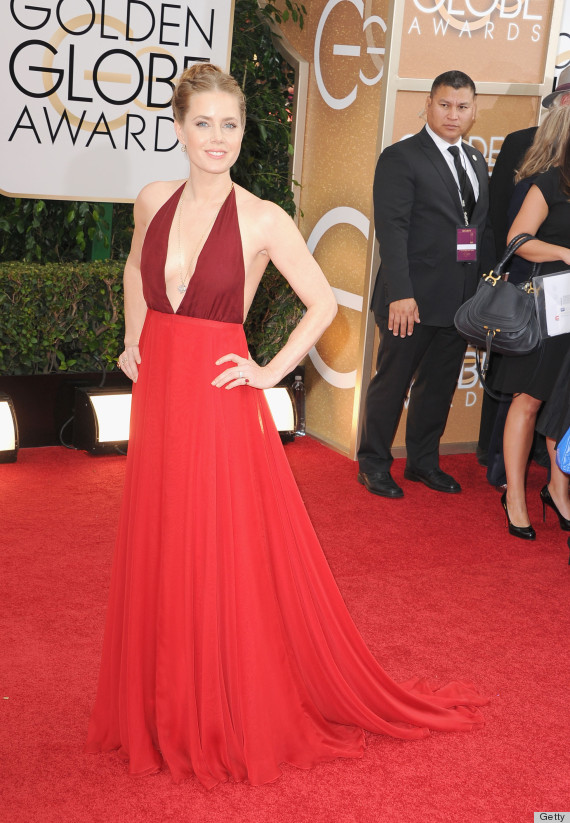 It's a good thing Amy Adams is such a great actor, because this Valentino is just wrong...Naked. She looked naked from the side especially and it made me a bit uncomfortable. Didn't we see enough of this fashion on her on the big screen in American Hustle? I'm not sure why she felt the need to re-cycle the look for herself. It's just bad. Period.
Note to Amy's Glam Squad: Her lipstick needed to be darker. I would have used Kevyn Aucoin's Blood Roses Lipstick which is a modern, fresh black cherry color that would have worked perfectly.
Kate Blanchette-a gorgeous creature in general, this Armani Prive lace number just set her apart from the pack. Why? It's simple elegance showcased Kates own elegance in a way that made her look regal. Was she my choice for best dressed last night? No, but she's top 3 for sure.
Hmmmm. My first thought is why? Jennifer Lawrence wore white to last year's Academy Awards and why wear it again? This was not my favorite, but it was not altogether bad, just off for me. I would have expected more from her, Rachel Zoe and Dior.
Who is this girl? She is BREATHTAKING. Margot Robbie is possibly one of the most beautiful women I have ever seen. Her Gucci creation is stunning and form fitting and perfect on this beauty. She's just perfection from head to toe. I think my girl crush is showing.
A Sharon Stone moment this is NOT! Sharon Stone made a splash at the Oscars in 2009 when she paired her husbands white dress shirt with a Vera Wang skirt. This is not that. Ouch..Julia, this (pardon the expression) SUCKS. Bad. Not only is it terrible, ill fitting and WRONG, but that crystal belt? Oy Vey. What the hell is that? Dolce? Are you paying attention to what Gabbana is doing? Was anybody paying attention? Obviously not.
And last but certainly not least, my favorite of the night! I may be wrong here but Diane Keaton stole the show. Diane came out to accept Woody Allen's Cecile B. Demille Award she was eloquent, reflective, endearing and stunning. I know that this gender bender suit is Diane's signature look, not anything we haven't seen before, but that particular suit with her stunning and perfectly sexy coiffed hair and glasses? She was gorgeous! I'm now looking for a suit like that for me. I LOVED IT!
Just one girl's fashion opinion here. What did you think?